KLM UK Engineering Limited is a leading regional aircraft and narrow body MRO (Maintenance Repair Organisation), wholly owned by AFI KLM E&M Network. The AFI KLM E&M Group has worldwide coverage which offers a vast range of aviation services allowing us to offer an additional range of products to our customers.
Our services include base maintenance, line maintenance, technical training and a component repair centre for Boeing 737 All Series, Airbus A320 Family, Embraer E170/190 and BAe146/Avro RJs.
The Company has been located at Norwich Airport for over 40 years, employing approximately 400 people and was formerly Air Anglia, Air UK and became KLM UK Engineering Limited in 2003.
Maintenance Repair Organisation (MRO)
Our facilities consist of six fully equipped modern heavy maintenance bays across three hangars, an onsite component repair centre which include—NDT, paint shop, trim bays, composite repairs and component repairs.
We also operate a line maintenance support network throughout the UK with the hub station at Edinburgh. 
This allows us to not only support our customers during heavy maintenance, but to offer them direct support during their daily operations. Our customers range from the UK and European based operators to VIP customers in Dubai, to the Australian market, which assists us with the balance of seasonal work throughout the year.
Technical College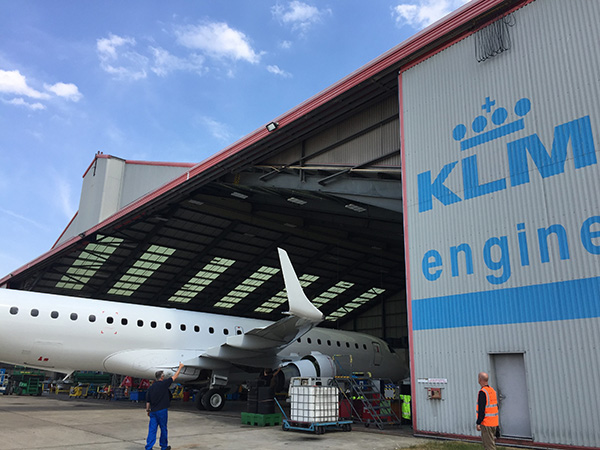 KLM UK Engineering has been providing technical training courses and aircraft apprenticeships to the industry from its head office at Norwich Airport for over 40 years. The training facility is located in the purpose-built International Aviation Academy Norwich, an aviation centre of excellence, providing state of the art classrooms and workshops, and allowing hands on experience on the live Boeing 737 Classic Generation aircraft. The facility is located next to the maintenance hangars, making it a convenient and inspirational place to study.
Our college provides a range of EASA and UK CAA approved technical course including type training, continuation training, online training, and apprenticeship programs.